Site visit to check and ensure the safety of the overhangs
After a piece of cornicing fell into rue Amédée Bonnet in early February 2013, CARREL school's facilities department wanted to ensure that all the cornices overhanging rue Amédée Bonnet, rue Boileau and rue Bugeaud, and the inner courtyard next to rue Bugeaud, were completely safe. DIADES was tasked with checking the condition of the cornices, mapping the defects and securing the areas likely to present a risk to users by carrying out the localised removal of unsafe parts.
Client & Project Manager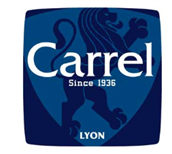 Principal features
Visit in an urban environment with pedestrian and vehicular traffic close to the areas of concern, requiring such traffic to be closed off and the areas to be made safe. Visit of inner courtyard by a team of rope access technicians. Use of a type 3B 32-metre capacity boom lift to reach all the cornices.
Building in urban location
Height of cornices: approximately 20 m.
Architectural cornice with several facets.
DIADES' task
DIADES carried out the task of inspecting and securing the premises, which included:
A visual inspection and the auscultation with a hammer of all the cornices of the CARREL building,
Locating the areas showing signs of defects (hollow sounds and assessment of their intensity, formation of flakes, fallen blocks, and so on) and establishing these on mapped surveys,
Removal of unstable parts of the cornices that present a potential danger to persons in the footprint of the building.